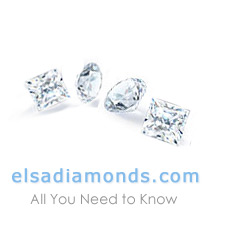 Purchasing Diamonds
Buying Diamonds doesn't have to be a Headache
To some people the thought of buying diamonds goes through their head like a nail!
Just like anything else buying diamonds doesn't have to be difficult because of all the options that are available. But to make this experience even scarier, when buying diamonds you will be dealing with a lot of money in some cases.
But just because there are a lot of aspects that go into buying diamonds does not mean that you should be scared. The fact of the matter is that there are reputable sellers out there.
Searching for Diamonds
When searching for a jeweler to purchase diamonds from, the first thing that you need to do is make sure that they have a good reputation in the industry. In other words you do not want to buy diamonds off of some guy that is standing on the street corner. You will want to locate a couple of good sellers that have many satisfied customers. Do a bit of research, check with the Better Business Bureau and you should not have any problems at all.
And when you are researching diamond sellers, you can also spend some time researching the industry as a whole. Find out what makes diamonds worth buying, as well as how to spot a fake. This will allow you to make an informed decision no matter who you decide to deal with.
Know the market value of a diamond
In addition, learn as much as you can about how much different diamonds cost. If you know a general price point, doing business in a fair manner will be much easier. The actual act of buying diamonds is not as difficult as some people make it out to be. If you are new to the industry, try to find a couple of locations in your area where you can shop. This way you will be able to speak with the sales representatives, and also get a good idea as to what is available. Also, when you buy diamonds in person you have a better chance of catching somebody that is trying to pull a fast one on you.
If you are holding back from buying diamonds because you are scared of getting taken, you need to get over your fears. This is a legitimate concern, but not one that should hold you back from what you are after. Judge for yourself how much to spend on a diamond versus following any spending guidelines. Spend the most you can afford on the best you can find. Diamond buying is an emotional time and, like anything else, you should stay within your means. If you do your research into the diamond industry you will be much better informed during the diamond buying process. And the saying "knowledge is power" is definitely true when it comes to buying diamonds.
Get started today with your research. In no time at all you will be well informed, and in a better position to make a buying decision. There is nothing to hold you back at this point! .
Buying a diamond can be an overwhelming experience.
It's complicated. There are lots of new words you need to learn, but don't panic! The basics are very easy to understand.It's easy to get overwhelmed when buying a diamond by all the new words you have to learn. It's not really that difficult. The four most common terms used to describe diamonds are cut, clarity, color, and carat. It's vital to understand what each of these means as they define a diamonds quality and value.
A Diamond's cut
The diamonds cut, not surprisingly describes the way in which the stone has been cut. This tells you more than simply what shape it is. The cut will determine how light passes through and how much it will appear to sparkle, or how much brilliance it has. This will be rated from poor to ideal.
A Diamond's clarity
The diamonds Clarity is determined by how many flaws there are, which will also Effect the brilliance. Almost all stones have flaws, but the untrained eye will rarely notice them. People are often surprised that diamonds have a color, but they do.
A Diamond's color
The diamonds Colors such as red and green are extremely rare and therefore are very expensive. Most common are white or near-colorless diamonds, with just a hint of color. These traces of color will absorb light, so for maximum brilliance you want a stone with as little color as possible.
A Diamond's carats
The diamonds Carats are a measure of weight. A small increase in weight will mean a Big increase in cost. In fact it is possible to buy many small diamonds for The cost of one large one. Now you understand these key words, buying a diamond should be a much Less scary prospect.