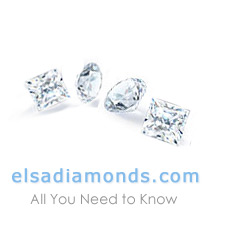 The Major Diamond Shapes
Diamonds are Available in Many Different Shapes
Today, the diamond has evolved into a symbol of eternal love for many, and is available in a variety of cuts. Here you will find an overview of common diamond shapes that are commonly used in jewelry design.

Round: The round cut diamond is the most popular choice for jewelry such as diamond rings, with the circle commonly representing never-ending love and harmonious balance. Creating a finished round shape diamond requires sacrificing more rough than any other diamond cut.



Marquise: A marquise shaped diamond is elongated, typically half as wide as it is long, with pointed ends. Said to be inspired by the smile of a mistress of King Louis XIV named Marquise de Pompadour, the marquise shaped diamond has royal insinuations.



Pear: The pear cut diamond, also known as the drop cut, appears to be a cross between the round and marquise shapes. A pear cut diamond may appear wide on the rounded end or may have a more elongated shape.



Heart: The heart shaped diamond requires considerable skill to produce. The heart cut is similar to a pear cut diamond, but incorporates two connected rounded edges where the pear shaped cut has one.



Oval: An oval shaped diamond looks just as you may imagine, like an elongated round cut diamond. The longer length causes an oval cut diamond to appear larger than a round cut diamond with the equivalent caratweight.



Princess: Only around since 1980, a princess shape diamond is a perfect square with ninety degree angled corners. A minimal amount of rough is lost in cutting and polishing a princess shape diamond.



Emerald: An emerald cut diamond is reminiscent of the way emerald gems are typically cut, and appears like a shortened rectangle with beveled corners.




Cushion: The cushion shape diamond has been around since the 1800s, but has experienced a recent surge in popularity. The square shape rounded on the sides and corners is renowned for its vintage appearance.