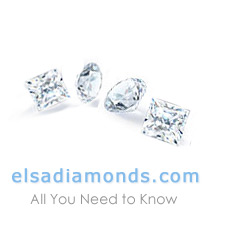 Diamonds from Elsa
Why purchase diamonds from Elsa Jewelry?
Elsarings.com Diamond Price Guarantee - Search through our loose GIA Certified Diamonds at Elsa Jewelry and if you find a diamond on any other site for less (must be equal or better quality, GIA Diamonds only) we will match that quality and price plus give you a hundred dollars cash.
If you have started the daunting task of shopping for diamonds online, you have probably discovered how difficult it is to figure out who has the best price for similar stones. Going from site to site, running individual searches on each one, then trying to compare results in several different browser windows - sound familiar?
There are consolidated shopping search engines out there and you may have used those when looking for the best price on some other products, but those search engines have a major weakness when it comes to diamonds. Shopping for a diamond requires additional details that generic shopping search engines are not able to display. If you can't at least see the diamonds cut, color and the diamonds clarity side by side, then the search results are useless. You can't compare apples to oranges and expect to figure out which is the better deal.
Wouldn't it be convenient if there were a comparison search engine designed specifically for loose diamonds where you could search by shape, weight, cut, color, clarity and price? Then you would see a list of matching diamonds at the same time and you could quickly see the best price for a 1.50 carat, H-VS2 round diamond. That's not too much to ask, is it?
Well, now there is such a search engine - and you may be shocked by the results. We're so sure we Guarantee you'll spend less money for the same, if not better, quality diamonds.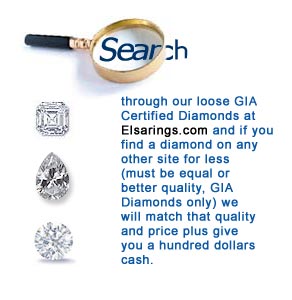 Diamonds can be cut into round, oval, trillion (triangular), emerald cut (rectangular), pear-shape (teardrop), princess (square) and other fancy cuts or shapes. Many diamond engagement rings feature round stones since this cut often offers the most brilliance or shine. When looking straight down at the top of a diamond, the flat surface is referred to as the stone's "table". Read more about Diamonds Shapes