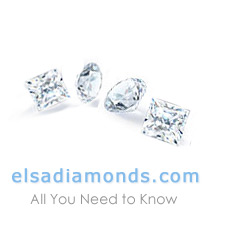 Diamonds
Frequently Used Terms for Diamonds
Buying a diamond can be complicated. How do you know if you're going to get a good deal? You need to know which factors are important when choosing a quality diamond. You need to know which questions need to be asked.
A diamond engagement ring may be one of the largest and most difficult purchases you will make, but it doesn't have to be.
Elsa Jewelry's Diamond Buyer's Guide has been designed to provide you with all the knowledge you need in order to make an informed diamond buying decision.

A General Glossary of Diamond Terms
Abrasion
Bruise or scratch
Alluvial
All deposites laid down on land by the process of erosion
American cut
Same as Ideal cut
Appraisal
A monetary evaluation usually for insurance or estate purposes. An insurance appraisal is based on an estimate of the retail replacement value. An estate appraisal is an estimated realization from a quick sale.
Baguette
A style of step cutting for a small rectangular stone. May also be tapered at one end.
Bearded girdle
If, during the cutting process, the girdle is rounded up too quickly, tiny, numerous, hairlike fractures extending into the stone will result. The surface of the girdle will lack the waxy luster and smoothness of a finely rounded diamond. It will appear fuzzy.
Bezel
The small part of the top sloping surface just above the girdle.
Bezel facets
The eight large facets on the crown whose upper points join the table and lower points the girdle
Blemish
Surface imperfection. e.g. nick, knot, scratch, minor cavity or poor polish. An extra facet or a natural on the girdle are also considered blemishes.
Body color
The color of the diamond observed under diffused light against a colorless background.
Bort
Industrial quality diamonds
Brilliant cut (round)
The most common cut of diamond consisting of 58 facets.
Canary diamond
A fancy yellow, greenish-yellow or orangy stone.
Carbon spots
A term used in the trade to refer to any black appearing imperfection in a diamond. May be graphite or other dark mineral or even dark reflections from cleavages or included transparent crystals.
Chip
Term used for a small single cut diamond.
A curved break on a diamond's surface.
Cleavage crack
Generally the most damaging type of imperfection affecting durability as well as beauty. It is a break that usually extends to the surface although sometimes they will extand a short distance from an inclusion.
Cloud
A group of tiny white inclusions that together give a cottony or cloudy appearance.
Colorless
Devoid of body color.
Crown
the part of the diamond above the girdle.
Culet
The tiny facet at the lower tip of a diamond.
Cushion cut
A square cut with rounded corners. An older form of the brilliant cut.
Dispersion
The property of diamonds to seperate white light into spectral colors.
Emerald cut
A form of step cut. usually rectangular but may be square. the number of steps can vary. Will emphasize color.
Facet
The plane, polished surface placed on a diamond.
Feather
A cleavage or fracture resembeling the shape of a feather.
Fire
Flashes of the spectral colors as a result of dispersion.
Fisheye
A diamond whose pavilion is very shallow, producing a glassey stone with poor brilliance.
Flaw
A general term used to refer to any imperfection in a diamond.
Fluorescence
The property of changing one type of radiation to another. For example: UV rays from natural light excite the atoms in certian diamonds causing them to emit visible light (be lumimescent) .
Fluorochromatic
When fluorescence causes a diamond to change color when exposed to two different kinds of light. A yellow stone (under incandescent light) may appear bluish under daylight.
Full cut
A term for a diamond having 58 facets, consisting of 32 and a table above the girdle and 24 and a culet below.
Girdle
The outer edge of a diamond usually grasped by the mounting.
Girdle facets
The 32 facets immediately above and below the girdle.
Inclusion
Any visible internal foreign object, or any crystal or grain of the same material as diamond or any break in a diamond.
Irradiated diamond
A diamond that has been exposed to radiation. Irradiation causes the color of a stone to change. Usually to greenish. May be from a natural or man provided source.
Kimberlite
The host rock in all primary diamond deposites.
Knot
A diamond crystal embeded in the surface of a host diamond that has been polished or cut.
Loupe
Small magnifying glass
Lumpy girdle
Unnecessarily thick girdle.
Macle
Flat, triangular, rough diamond which is a twinned crystal.
Melee
Diamonds under .20 carat.
Old English Cut
Single cut
Old European Cut
Early round cut characterized by a very small table, heavy crown and great overall depth.
Old Mine Cut
An old cut that is square with rounded corners
Phosphorescence
Property of some diamonds to continue to emit visible light (be lumimescent) in darkness after exposure to UV rays. To glow in the dark. This is a rare property.
Point
100th of a carat.
Polished girdle
As implies, a polished surface of the girdle as opposed to a waxy one. It may also be faceted.
Scintillation
Alternating display of reflections from the polished facets of a diamond as seen by an observer as the stone, light source or the observer is in motion.
Spread stone
A stone that has been cut with a large table and a thin crown.
Step cut
All facets in a step cut stone are four sided and in steps, or rows both above and below the girdle. All facets are parallel to the girdle and except for those on the corners are long and narrow.